Cat Coloring Books for Adults
Do you love cats? Do your cats like to sit on your lap… well then coloring books are perfect for you. My cats are really enjoying this new hobby of mine.. not only am I sitting still but there are all these fun things for them to grab and knock on the ground. There are a bunch of beautiful coloring books featuring cats in all skill levels. I've listed the top 10 on Amazon after looking through all the reviews Take a look!
Cat People Coloring Books for Adults
Pomegranate's CatColor coloring book features 22 ever-popular Cat drawings by B. 'Hap' Kliban. Coloring pages are blank on the back so they can be cut out and displayed. Each illustration is reproduced in a small, color version of the original artwork and as a full-page black line drawing. 8 1/2 x 11 inches. This is the only grey-scale cat coloring book I've seen and is right now going on my wishlist. The reviews on this one are great!

Click to buy Amazon US  –  UK  –  Canada  
I just received this coloring book to review and it's very clever!  This coloring book features the daily comic [email protected] and is filled with 37 crack-up coloring pages to help you de-stress after a long day of dodging your boss and hiding under your desk at the office. Color your cares away with themes like "Coffee Vibes", "Cattitude", "Work-Life Balance", "I Just Work Here", "Lookin' Good", "Monday Mood" and "I'm Awesome". Laugh at your job with the colorful humor of the [email protected]! This would be a perfect book to keep in the break room or to gift your co-workers with a personally colored picture when they are having a bad day. You can see my flip-thru on Instagram here.
This is a top bound book with smaller format squarish pages 8×8 that are easy to tear out and are a nicer quality of paper than you normally see. The images are licensed by multiple artists so you may have some duplicates but the format of the glue bound tear out pages makes this a very nice way to color. Most of the cat images in the book I haven't seen before so I was happy when I received this book for review and have colored and gifted quite a few pages already.  Published by Barrons Educational
Click to order Amazon US  –  UK  –  Canada  or Book Depository
Cat-A-Doodles – Whimsical Cats to Know and Love


 Click to order Amazon US  –  UK  –  Canada  or Book Depository
I just received this completely fantastic Cat Coloring Book from the publisher and just had to update this post!
Cats reduce stress. Coloring reduces stress. Now artist Diana Hansen-Young has created the ultimate relaxing adult coloring book, a collection of 24 original, freehand, pen-and-ink images of cats in whimsical hats and adorable, inspirational scenes: whether it's a tap-dancing "Dare To Dream" cat or a writer cat "Just Doing It," or my favorite Sherlock and Watson investigator kitties, each one is sure to make you smile.
Posted with permission from ColoringBookAddict.com
This super cute kitty adventure stars Tilly, a fabulous feline, and her canine companion, Spike, trek from Greece's ancient Acropolis and the Roman Colosseum to modern-day landmarks such as Dubai's skyscraper, Burj Khalifa, and the Sydney Opera House. Thirty adorable illustrations to color feature China's Great Wall, the Statue of Liberty, Big Ben, and many other famous sights.
How can you free yourself from niggling everyday worries? When your mind is distracted simply pick up this collection of 70 intricate designs inspired by cats and reach for your coloring pencils. As you concentrate on the simple action of coloring in, you will find your mind clearing and calm returning.


The sheets in this pad are all detachable, so you can display your favorite creations.
The cat coloring book that almost everyone has (and was my first purchase too) is the Creative Haven Creative Cats Coloring Book. It is basically the same cat with different designs on and around it. The pictures are one sided so as long as you put a sheet of paper behind it you can use your Sharpies or Bic Markers on them.
has gotten great reviews on Amazon and represents work from various artists.  This adult coloring book has 30 Different & Creative cat's designs,featuring full-page portraits of pretty pussycats form a rich background that includes hearts, butterfly, flowers, and paisleys in various patterns. This book has one sided pages for marker lovers.

by Elizabeth James is a beautiful and relaxing creative colouring book for all feline fans and crazy cat lovers! Switch off, unwind, and unleash your inner creativity as you colour in the amazing outfits and super cool clothes of these fantastic fashion-forward felines.

Each of these beautiful individual designs are printed on a single page with the reverse left blank – so no bleed through, and perfect whether you use pencils, pens or paints.
This adult coloring book contains over 30 lovingly detailed designs featuring everyone's favorite furry, purring Zen masters. A variety of breeds, poses and styles ensures you'll find your relaxation inspiration. Designs range in complexity from beginner to expert-level.
The world's top cats are represented in thirty lovely, lifelike illustrations. From the willowy Burmese and the magnificent Maine Coon to the proud British Cream and many other exalted felines. Dover books are two sided so if you are a marker lover you will either have to chose your favorite picture to color or make copies on cardstock.

with 22 images to color, printed on translucent paper. Featuring reproductions of original works of art by Mimi Vang Olsen. This book has 7-5 star reviews and no bad reviews so it must be a cat lovers delight.
World of Cats to Paint or Color (Dover Art Coloring Book)
Reviewer Jackie Cooper says: "This has become the number one favorite coloring book of both boys and girls, and the adults at my house. Every illustration is exceptional; the biggest problem with this book is deciding which picture to color first and which color medium to use, crayons, markers, and color or watercolor pencils. "


This purr-fectly wonderful book for coloring enthusiasts and cat lovers alike features frisky felines of every variety in 23 realistic illustrations. Use crayons, markers, or paints to color the kitties as they frolic in sunny gardens, lounge on overstuffed chairs, climb leafy trees, and play their cat-and-mouse games.
This delightful coloring collection features:
Beautiful drawings, specially printed with light gray lines that virtually disappear with the addition of colors for a finished, professional look
High-quality paper, printed on one side only and suitable for watercolor, colored pencils, and other media
Perforated pages for easy removal from the book
by Mesdemoiselles, Aurelie Castex and Claire Laude
This author also has some cat post cards to color to send to your other feline loving friends as a creative surprise.
There are a few intriguing cat pictures in Creative Haven's Curious Creatures as well.
Order direct from the artist with these cute kitty books on Etsy
Siamese Cat Coloring Book
  is a beautiful and unique coloring book from Two Ear Design in Thailand Size 11×21 cm (A4) 64 pages
Fairy Tangle Art is one of the most popular coloring book artists on Etsy.. One of her Fairy Tangles includes this sassy cat.
Be the Artist 8 x 10 Spiral Bound Book for Cat Lovers of All Ages
Doodle Cats – A Zentangle-Inspired Adult Coloring Book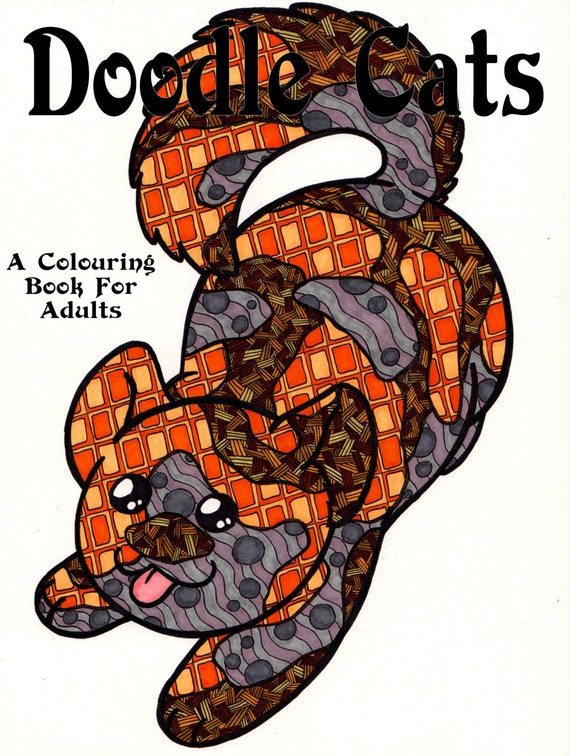 10 pages of whimsical cats eating, sleeping, dreaming among other things. Each single sided page is 8 1/2 x 11 printed on heavy card stock paper. This book has a clear plastic cover and comb binding for easier coloring.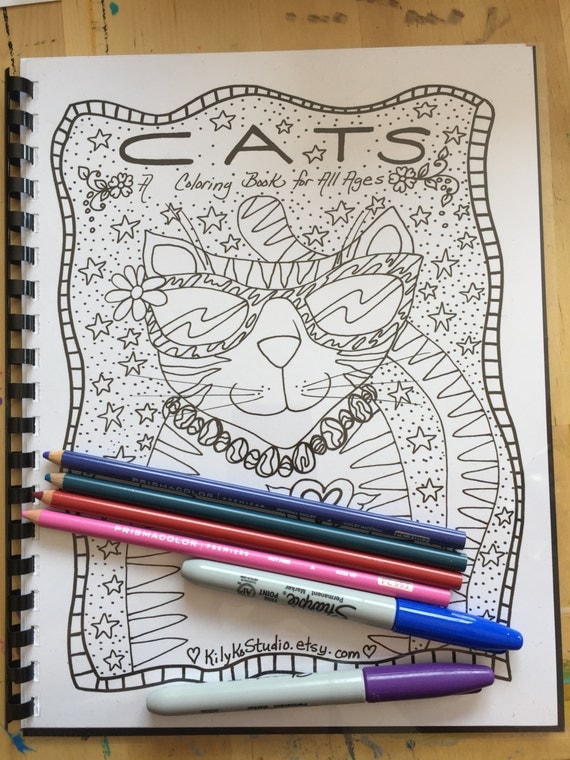 There are quite a few more individual cat coloring pages available on Etsy.. check them out on this link.
One of my favorite coloring book series is the "Color Me…" series.. so far
Color Me Calm
and
Color Me Happy
. I just purchased Color Me Happy and guess what.. a whole chapter with animals and several really adorable cats.
You know the cat lovers in on your gift list during the holidays are going to love these..